Do Your Part To Help STOP Children Fatalities Around School Buses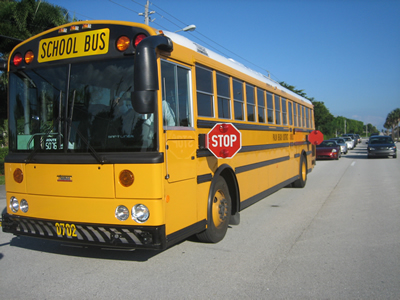 School is about to get started, if it hasn't started already for your kids. Somethings to remember before dropping your kids off at school are concerns with speeds in school zones and stopping for school buses that have their red lights flashing. First off I would like to mention that the fine for passing a stopped school bus with its red lights flashing can be as high $1000.00 per incident.
REALLY THOUGH, FORGET THE FINE! What about the unthinkable event of hitting a child and possibly killing that child! Could you live with that? You would have to live with knowing this for the rest of your life, and not to mention, you could possibly do jail time and be convicted for manslaughter. Look, I know I made that sound scary but only because it is scary! All life is precious and not knowing the law is not an excuse for breaking the law.
It is estimated that "school bus-related accidents send 17,000 U.S. children to emergency rooms each year", according an NBC News article: School bus injuries much higher than thought.
I know, to some of you, it may seem strange at times that you are required to stop for the bus when the kids are getting off or on the bus at the sidewalk. However, the truth is, children can be unpredictable when getting off or on a school bus. Below is the legislation that outlines this law.
School bus stop law to load and unload passengers: CVC section 22454 states:
(a) The driver of any vehicle, upon meeting or overtaking, from either direction, any schoolbus equipped with signs as required in this code, that is stopped for the purpose of loading or unloading any schoolchildren and displays a flashing red light signal and stop signal arm, as defined in paragraph (4) of subdivision (b) of Section 25257, if equipped with a stop signal arm, visible from front or rear, shall bring the vehicle to a stop immediately before passing the schoolbus and shall not proceed past the schoolbus until the flashing red light signal and stop signal arm, if equipped with a stop signal arm, cease operation.
(b) (1) The driver of a vehicle upon a divided highway or multiple-lane highway need not stop upon meeting or passing a schoolbus that is upon the other roadway.
In other words, running a school bus flashing red light or stop arm, usually shown as a stop sign, is a violation of driving laws. You cannot pass on either side of the road unless it is a divided highway. If the school bus operator sees you pass the bus while the lights are flashing red, the driver of the bus can turn in your license plate to the proper authorities and if you didn't know, most school busses are equiped with video cameras these days.
With school being back in, it is important to be a more caughtious driver as more kids are out on the street when school is in. Be a curtious, aware driver and always be safe. Happy safe driving from One Day Traffic School
Please, feel free to share this article on Facebook or with other website audiences. As a group for humanity, we can help to eliminate children bus related fatalities. I hope this short article has shed some light on the school bus laws and safe driving practices.
References
Leginfo.ca.gov. VEHICLE CODE SECTION 22450-22456. Retrieved August 16, 2016 from:http://www.leginfo.ca.gov/
NBC News. School bus injuries much higher than thought. Retrieved March 27, 2018, from: http://www.nbcnews.com/id/15581273/ns/health-childrens_health/t/school-bus-injuries-much-higher-thought/#.Wrrdo5dG2pA
Wikipedia.org (2016). An American school bus displaying front and rear folding stop signs [Online image]. Retrieved Jan. 16, 2018, from https://en.wikipedia.org/wiki/Stop_sign